Dental treatments are usually painful. It makes you uncomfortable and anxious the entire time! But of course, it belongs in the past now. This is because dentistry has gone through a lot of changes now especially the dentists' way of delivering care to patients with utmost care and comfort!
One common technique that provides convenience is the H-wave electronic anesthesia.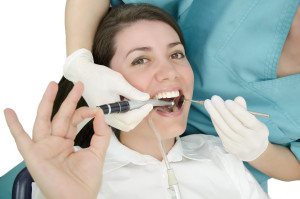 The H-Wave electronic anesthesia is a needle-free anesthesia. This device can change your traditional experience with local anesthesia as it involves no pain, no needles and no injection process! The H-Wave electronic anesthesia works by sending electrical impulses. The electric currents sent help block pain signal in the brain which makes you comfortable and numb during the entire treatment.
Since this device is an electronic anesthesia, it usually relies on low-voltage currents. The currents sent are enough to control dental pain. Therefore, any treatment that works with H-wave electronic anesthesia isn't painful; you'll never experience anything but complete comfort and relaxation. As per stated by experts, it is  suitable for those who suffer from dental anxiety. Dental anxiety is serious dental problem that restricts you from receiving dental care or even prevents you from seeing a dental professional. This dental condition affects anyone, including kids and adults.
There are numerous advantages that make H-Wave electronic anesthesia exceptional. Aside from the obvious, which is the no-needle benefit, H-wave electronic anesthesia has lesser risk to allergies. It is also quick to dispense numb and fast to wear off after the treatment. Therefore, you can easily go back to your usual routines, such as eating, as soon as you finish your treatment.
Just like the other forms of dental anesthesia, H-wave's dosage is controllable. Aside from your dentist, you can manipulate the dosage. The process of controlling the level of anesthesia to receive starts by placing small electrodes to the affected area. Your dentist will provide you a box. This control box allows you to monitor the dosage. Of course, keep in mind, the most appropriate dosage to receive should always base on your condition or case. With this, it always pays to rely on your dentist. Your personal dentist is the most reliable person to consult in terms of learning the dosage.
The H-Wave electronic anesthesia is really beneficial. Aside from helping you control pain, this device can help you combat dental anxiety and fear. To discover more, seek professional help from an efficient emergency dentist .