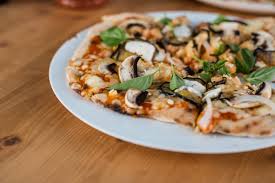 Pizza is one of America's known comfort food. It's hard to resist the delicious combinations you get in one bite. Your pizza cravings are also easily quenched in a press of a button. Indeed, the comforts of fast food made this generation inclined to easy and tasty pre-made foods. The only catch for pizzas is the artificial flavorings, added sugar, salt, and cholesterol that you consume especially in excess. Being a junk food, pizzas have major effects on your dental health.
Pizza lovers need not lose hope because pizza also has a lot of health benefits, especially on your dental health. Eating pizza is a good way of increasing your calcium intake within a day through the cheese in it. Our bones and teeth need calcium to be strong and healthy which are why dentists and their team for emergency dental help encourage calcium-rich foods consumption, like cheese and dairy products. Pizza with meat in it also gives your body the needed protein for muscle formation and maintenance of tooth structure as well as the mucosal tissue development.
Fortunately, not all pizzas are created equal. There are variations and types that make the junk food into a healthy and lip-smacking snack. Healthy pizza exists and just as delicious or even more than the usual ones that you order. The following are guilt-free pizza recipes that would boost your dental health in no time.
Whole-Wheat Veggie Ricotta Pizza. Going with whole-wheat definitely creates a difference for those who are conscious with the sugar break down. The veggies like butternut squash, Brussels sprout, and pumpkin seeds are a good source of vitamins and minerals that boost your immune system and encourage chewing and production of saliva. This helps in managing the bacterial growth in your mouth. The cheese is also a good source of calcium for your enamel.
Flax-Crusted Pesto Pizza. This pizza recipe is packed in taste and low on calories. This would be one of those recipes that your teeth and waistline would thank you for. Flax seeds are used instead of the regular crust for pizza. Along with parmesan cheese and eggs, this snack would provide you with the protein that you need for tissue formation and other immune system functions.
Spaghetti Squash Chicken Pizza. This pizza has a squash spaghetti crust that is low in calories and a good source of vitamin-A. This plays a big role in making your oral tissues healthy and boosts your immune system to fight off bacterial attacks.
Cauliflower Crust Pizza. Cauliflower is considered a super food. Using cauliflower as pizza crust has anti-inflammatory effects, antioxidants, vitamins, and minerals combined with your favorite vegetables, pesto sauce and lean protein like grilled chicken.
The right amount and balanced approach to eating pizza will definitely benefit your buds and your teeth. Add more crisp vegetables and nuts for added texture and fiber. You just have to create creative pizza toppings and crust choice. Pizza can be fun and healthy without sacrificing the flavor.